Garden edging products
Separate your lawn and garden with Master Mark garden edging. If it's hard to tell where your lawn stops and your garden begins, you need garden edging products. Keep soil and mulch in garden beds and out of your lawn with Master Mark.

Flower bed edging products
Give your blooms a beautiful, durable border with flower bed edging. Just as a picture needs a frame, your flower beds need a clean, attractive edge. Master Mark has dozens of edging solutions, so we're sure to have edging that's the perfect match for your beds.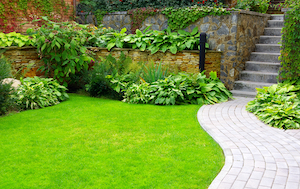 Paver edging products
Secure pavers, bricks, or stones with paver edging. Paver edging is an essential part of your new walkway, driveway, or patio. Our paver edging provides a clean visual edge as well as the stability and security needed to keep it looking good for years.
Master Mark is made in America
Made with pride in the USA.
All Master Mark products — from landscape edging to splash block — are durable, affordable, and crafted with pride by American workers. That's why DIY homeowners and professional landscapers have trusted Master Mark for more than fifty years.

More Master Mark products for lawns, gardens, and flower beds
Landscape Stakes & Anchors
Master Mark provides a wide range of plastic and steel stakes for landscaping, gardening, and support.
Decorative Fencing
Our Decorative Fencing is perfect for outlining flower gardens, driveways, and walking paths.
Raised Garden Bed Corners
Master Mark Raised Garden Bed Corners are an easy way to create a raised garden of any size.
Splash Block
Guards foundations lawn, or landscaping against damage from rainwater runoff.
Tree Protectors & Supports
Protect your saplings and young trees from weather and animals!
Save time and money with Master Mark palletized edging!
Need help installing Master Mark edging?